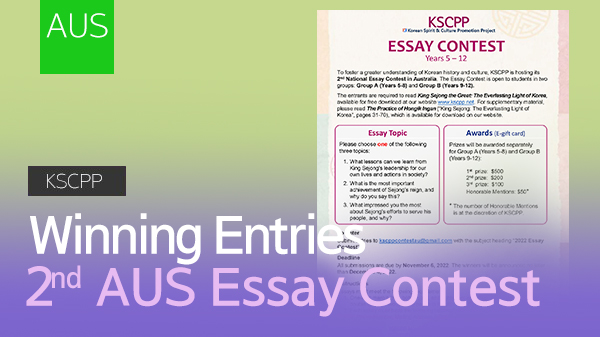 We would like to extend our deepest gratitude to all those who participated in KSCPP's 2nd essay contest in Australia.
We hope that our contest gave everyone an opportunity to experience the true spirit of Korea.


This year's winners are as follows:

High School
1st Place: Aarohee Hirachan, Hurlstone Agricultural High School
2nd Place: Cara Parker-Thomas, St Francis de Sales College
3rd Place: Adam Li, All Saints Anglican School

Honorable Mentions:
● Katie Johnson, MacKillop Catholic College
● Seungho (James) Shin, All Saints Anglican School
● Alicia Park, St Leonard's College
● Lana Goodall, Randwick Girls' High School
Middle School
1st Place: Zahra Hussaini, Chaffey Secondary College
2nd Place: Lindsay Zhang, Somerville House
3rd Place: Rebecca Li, Carlton South Public School

Honorable Mentions:
● Evelyn Park, Alkira Secondary College
● Zoey Evandri, Somerville House
● Luke Goodall, Randwick Boys High School

Thank you again for all your great efforts,
and please look for our next essay contest announcement.